Blog
Details

Category: Blog
Published:

Saturday, 10 November 2012 17:35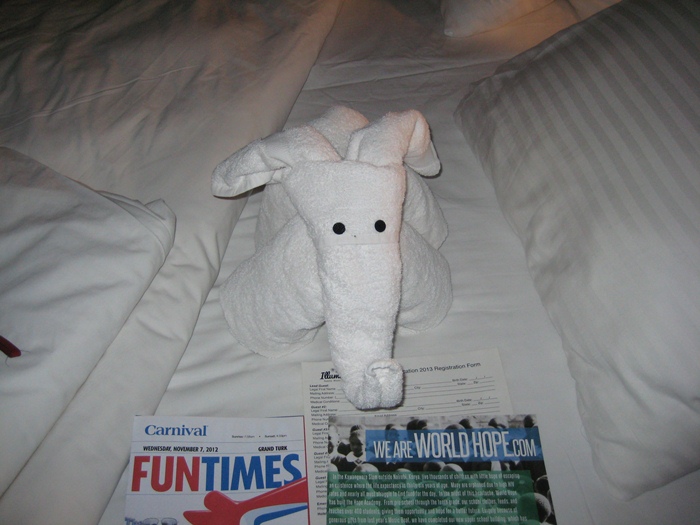 Day 2 was a relaxing day. The sun was hot and so were the concerts.
After browsing the silent auction items (autographed Cds and guitars, trips, jewelry) we lay out on deck chairs and watched Planetshakers, Royal Tailor and Group 1 Crew perform live... on the pool deck. I really enjoyed the energy from Planetshakers, and noticed they are the only group/band that had women in it! I think the general consensus aboard the ship (from those we surveyed) is that Royal Tailor is AWESOME! I don't think many people knew what to expect with them but their energy, stage presence, dance moves and vocals blew people away. I would see them again any time. Group 1 Crew hit the stage next and brought their usual dance moves and high energy. Since there are only two members now (Manuel and Blanca) they had Benny (Blanca's husband and drummer) sing some extra vocals (including the Chris August part in "He Said"). The energy was high, dance moves in sync and they exchanged wit on stage. Jason and I had a chance to meet with Royal Tailor and get a picture with them. Nice guys!
After our lovely dinner (it was formal dress night in the dining room, with lobster tail on the menu), Brandon Heath and Mandisa took the main stage. I'm so glad to have been able to see Mandisa live (she and Natalie Grant are the two female vocalists I have been most looking forward to seeing in concert). Mandisa shared that dancing is how she shows her freedom in Christ. She spread the message of freedom and strength in Jesus, kicking off the show with "Shackles" (the Mary Mary song she performed during her season on American Idol). Classic Petra performed next... and they still got it!
I hosted the late-night performance from stand-up comedian Bone Hampton. He has been emceeing most of the trip (had his 3 year old son Seattle with him on stage a few times), but this was my chance to hype the crowd up for him. He was hilarious!
We went to bed after the comedy show because we had to get up early for scuba diving in Grand Turk in the morning. Ship docks at 8:00am. YAY, LAND!!
photos:
with Royal Tailor
Royal Tailor
Group 1 Crew
Brandon Heath
waiting for the polls
Mandisa
introducing Bone Hampton
Comedian Bone Hampton
towel elephant :)