Blog
Details

Category: Blog
Published:

Monday, 30 January 2012 16:01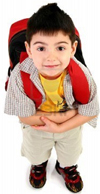 Registration for kindergarten at Ottawa's public schools begins today. (Jan. 30-Feb. 3) Parents of four and five-year-olds can register their children for full-day kindergarten.
'Read more' for information on Christian School registrations as well!
The Learning Partnership provides these Top tips for early learning and a successful transition into Kindergarten...
If your child will be age four or five by December 31, 2012, they are ready for junior or senior kindergarten starting September 2012.
Click here to register for the OCDSB (Ottawa Carleton District School Board).
Register for junior kindergarten, senior kindergarten and grades 1 to 8 at OACS* (www.oacs.org) Christian schools in Ottawa and the surrounding area (www.whychristianschools.ca) for the 2012/2013 school year. (scroll to bottom for more links & info on individual Christian schools)
Top tips for a successful transition into Kindergarten (from The Learning Partnership, a national not-for-profit organization dedicated to championing a strong public education system in Canada):
- Take every opportunity that comes along to talk to your child – ask questions and answer questions. This will not only develop the child's language skills but also nurture curiosity.
- Reading begins with talking and listening. Read to your child and talk about books to help develop your child's listening skills and an interest in stories and print.
- Talk to your child about letters and numbers and do fun activities with them to help your child develop number and letter awareness. For example, when at the grocery store make a game of looking for items with a letter that is the same as your child's initials.
- If English is your second language, speak to your child in the language that is most comfortable for you. ESL parents should continue reading and talking in their first language to their children.
- Initiate activities with resources such as crayons, safety scissors, construction paper, glue and playdough to help your child develop the finger control and the coordination they need for writing as well as encourage their creative expression.
- Recite rhymes and sing songs to help your child play with language as well as hear and recognize sounds and learn new words.
- Encourage independence: help your child learn to get dressed; express feelings, thoughts and needs clearly to others (such as going to the washroom, getting a beverage).
- Help your child make choices, for example: which clothes to wear, what activities to do.
- Give your child opportunities to play with other children, share and take turns.
- Introduce your child to their teacher, bring them to their new classroom so they are familiar with their new environment, and know what their school day will be like.
These learning activities can be used by any parent who has a pre-school child. Take an interest - and with the right resources packed in the knapsack, both you and your child will have a great day at school. Remember, getting ready for the learning adventure begins at home. And when your child comes home, talk to them about their day because tomorrow is going to be full of new learning adventures.
www.thelearningpartnership.ca/
OttawaChristian School, Ottawa – JK to Grade 8
www.OCSchool.org
CommunityChristian School, Metcalfe – JK to Grade 8
www.communitychristianschool.ca
TimothyChristian School, Williamsburg – JK to Grade 8
www.tcswilliamsburg.ca
Renfrew & District Christian School, Renfrew – JK to Grade 8
www.renfrewchristianschool.com
*The Ontario Alliance of ChristianSchools (OACS) is the oldest (1952) and largest independent schoolorganization in Canada. The board and staff are committed to the pursuit ofquality Christian education and consciously and prayerfully integrate Biblicalprinciples into our educational theories and practices.
The OACS represents a flourishingChristian education community in Eastern Canada made up of 70 schools and11,000 students. The OACS is a member of Christian Schools Canada as well asthe Federation of Independent Schools in Canada. The board is made up of 10members elected by the membership at the annual meeting in November.
OACS is a non-profit corporationproviding professional leadership and educational solutions to Christianschools in Eastern Canada with offices located in Ancaster Ontario. For moreinformation visit www.oacs.org.